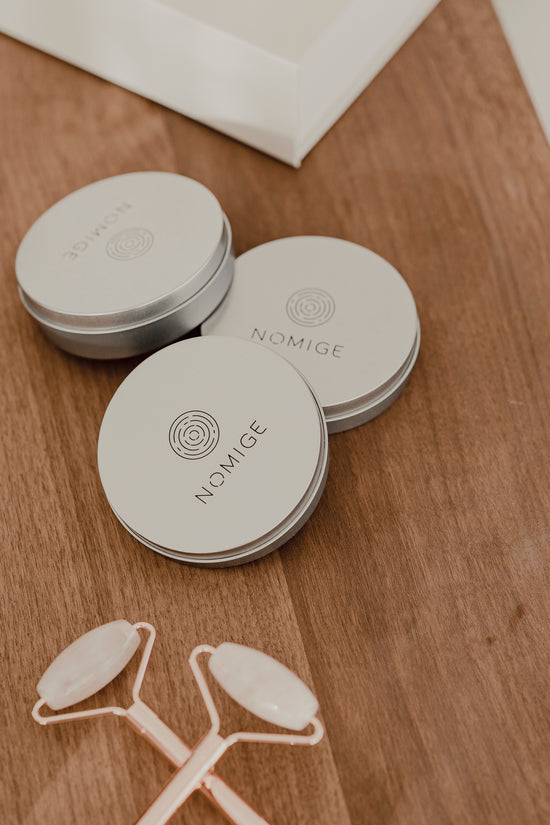 Accessories
Reusable Eye Patches
$28.00
The reusable eye patches are applied with your personalized Nomige Night Serum . This allows the active ingredients of your night serum to reach the deeper layers of your skin even better. The mask forms an occlusive layer that locks in moisturizing products and helps you get more out of your Nomige routine. The result is firmer, depressed and hydrated skin under the eyes.

Apply your Nomige cream or serum evenly under the eyes. Apply the eye patches and enjoy a relaxing moment for up to 10 minutes. After use, remove the eye patches, wash gently with your Nomige cleanser and warm water. Dry the patches and store them back in the can.
The effect of the reusable Nomige Eye Patches.
The Nomige Eye Patches are used in combination with the night serum. This combination helps to reduce puffiness, dark circles and wrinkles. Moreover, the combination with the night serum gives the Nomige eye patches a durable character, in contrast to disposable plasters or reusable patches that are already impregnated with a substance. The step-by-step plan for use in a row: - Cleanse your face and pat dry. Apply the night serum to the eye patches and place the mask under the eye area, on the nasal fold or above the eyebrows to target frown lines. - Leave the mask on for 10-20 minutes. - Remove the eye patches and gently massage the remaining essence of the night serum into the skin. - Continue with your regular skin care routine.
Read the blog post